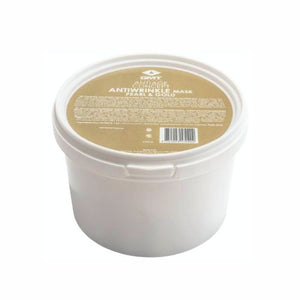 An excellent Premium class mask. The rich and abundant anti-age mask is a powerful skin regenerator. It models and firms the shape of the face. Product reduces the visible wrinkles by strengthening, toning and restoring skin. The mask contains 100% natural pearl powder, with essential composition of calcium salts (aragonite) which regulate the protective properties and health condition of the skin, and pearl protein (conchiolin) which provides skin with natural UV protection, regulates skin's physiological pH, activates the natural functions of skin cell regeneration and normalizes metabolism in skin cells. Gold particles act as an antioxidant, they facilitate skin's rejuvenation, delay skin ageing, strengthens and improves lifting effect and evens out the skin tone, improves respiration of skin cell and metabolic processes in the skin.
USE: Mix the required amount of the mask (50-100gr) with 200-300ml of water (+20C). Mix intensively until consistent paste with a jelly-type structure. Apply mask evenly on cleansed face and neck. Keep on for 15 minutes and gently remove. Skin acquires freshness and glow.
 Main active ingredients: Pearl, Gold.
https://www.youtube.com/watch?v=FITtMKO70qs