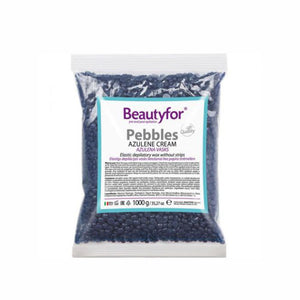 Azulena Elastic Pearl Depilation Wax for use without paper strips
Heat the wax until a creamy mass is obtained. Check the temperature of the wax by applying a small amount to the inside of the wrist. Take the wax with a wooden spatula and spread it evenly on the skin in a thin layer in the direction of hair growth. To facilitate hair removal, we recommend applying a thicker layer of wax at the ends of the wax strip. Allow the wax to cool and pull the strip against the direction of hair growth while grasping the edge. To remove excess wax, press on the wax used. After epilation, apply to the treated skin a special remedy for epilation. Store in a dry, cool place. Do not use on inflamed, damaged skin or if you have varicose veins.
Ingredients: Glyceryl Rosinate, Triethylene Glycol Rosinate, Cera Microcristallina (Microcristalline Wax), Etnylene / Va Copolymer, Paraffin, Mica, Titanium Dioxide, BHT, C.1.61565 (Green 3), Cl 60725 (Violet 13).