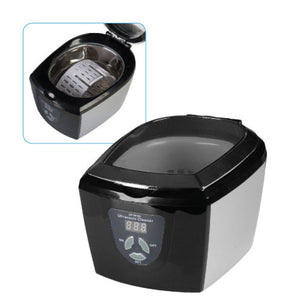 Ultrasonic Cleaning Machine, high frequency vibration stimulates the transducer and creates ultrasonic waves of 42 000 Hz. Charge the device with disinfecting solution or water and soak items that you want to clean and press ON button. The tool should be completely covered with water or disinfecting solution. Influence of ultrasound creates bubble, which constantly hitting the surface of objects and cleans the surface of tools.
Capacity: 750 ml.
Sterilization time frame: Maximum operating time frame 8 minutes - minimum 90 seconds.
Digital programming with 5 cycles (90s 180s, 280s, 380s, 480s)
Stainless steel tank
Weight: 1 kg.
Dimension: 210 x 158 x 125 mm.