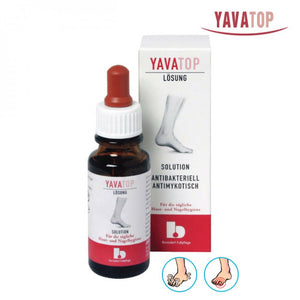 Effects: The alcohol-containing solution cares for and protects the skin and nails against inflammation, microbes and fungi. Easily absorbed and penetrates deep into the skin and nails. Prevents skin and nails from drying out. A special antimicrobial combination of active substances, chlorhexidine diglyconate + isopropyl alcohol, effectively destroys bacteria and fungi. Chlorhexidine has a wide spectrum of antibacterial application, which is extended by isopropanol, which is also a disinfectant. Alcohol is drying, but octyldodecanol repels fat.
Usage:
for prevention: apply to the nail before and after treatment and let it dry;

for long-term prevention: apply regularly 2-3 times a day to areas damaged by fungi.

For nail prostheses and artificial nails: after each contact with water, apply a small amount of solution around the nail plate, thus preventing infection.

For nails damaged by fungus: apply the solution daily 2-3 times a day on the nail, around the nail plate and let it dry. During the procedures, trim the nail briefly, but grind the damaged areas and thickenings with a cutter or a file, so that the solution is absorbed into the nail as much as possible. Nails should always be clean. Always smooth the damaged nail.