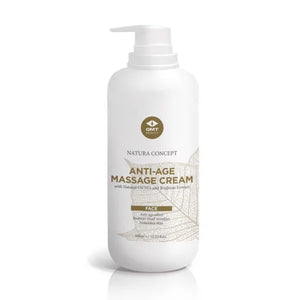 Anti-age massage cream for the face - ideal for performing a massage procedure. Glides easily, cares for the skin, suitable even for the care of dry, sensitive skin. During the massage procedure, the skin is deeply moisturized, nourished, and aging processes are inhibited.
The cream deeply moisturizes and strengthens the skin structure. The combination of hydrolyzed wheat protein and rich natural oils (Triticum vulgare, Prunus dulcis, caprylic/capric triglyceride) improves the skin's protective capabilities, protects against moisture loss, softens, moisturizes and nourishes the skin, forms a protective layer. Helps maintain skin elasticity, improves metabolism and promotes the elimination of toxins. Contains vitamins B1, B6, especially a large amount of vitamin E, which softens and deeply nourishes the skin, making it velvety.
Deep skin moisturizers - PENTAVITIN® molecules - actively attract water and provide skin hydration for 72 hours. Lactic acid normalizes the epithelization process, improves skin hydration and elasticity, promoting the synthesis of "intercellular substance" (glycosaminoglycans). The natural sources of silicon contained in the product increase the level of hydroxyproline - an amino acid - in the tissues, affecting the synthesis of connective tissue fibers. The vitality of the connective tissue and its ability to attract water is restored.
The combination of strong antioxidants - green tea (Camellia sinensis) and acerola (Malpighia punicifolia) - effectively fights against free radicals.
Hydrofiltrat Menyanthes G extract inhibits changes in the skin caused by chronological and photoaging and restores skin elasticity. The extract has a pronounced lifting and shaping effect on the face. The product has a strong antioxidant effect, it stimulates collagen synthesis, restoring skin elasticity and tone.