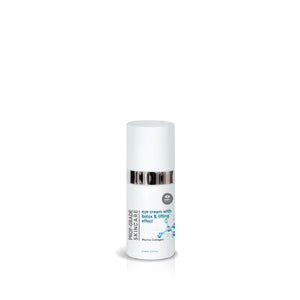 The cream, which contains natural substances, perfectly moisturizes and soothes the skin, prevents puffiness and reduces dark circles under the eyes. Provides an immediate lifting effect and reduces the depth of wrinkles. With regular use of the cream, the new generation active substance CAFFEINE 50% CYCLOSYSTEM COMPLEX reduces the visible signs of pigmentation and corrects pigmentation problems.
The combination of marine collagen, plant extracts and natural oils provides immediate and long-lasting hydration. The cream has an excellent anti-aging effect, as it improves the firmness and elasticity of the skin. It gives radiance, restores and strengthens the skin structure, provides an even tone, stimulates regeneration and normalizes the hydrobalance of the epidermis.
Use: apply the cream to clean skin of the paraorbital area with light massaging movements and massage until it is completely absorbed. It is recommended to use twice a day in the morning and in the evening.
Volume: 15ml