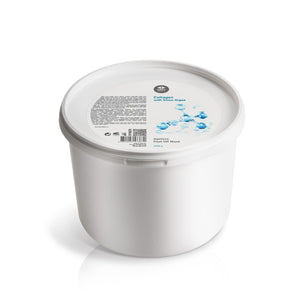 Alginate mask with collagen and snow algae acts at the cellular level, inhibiting biological aging processes, promoting deep regeneration and skin protection.
Thanks to the special composition of the mask, the moisture level in the skin is improved. The mask's ability to attract water significantly improves skin elasticity and reduces the formation of wrinkles. Snow algae has a strong anti-aging effect, promotes collagen synthesis and reduces its loss by improving the structure of the skin, increases the skin's moisturizing ability and smoothes wrinkles in the eye area. This mask is like a "youth longevity gene" that gives new life to the epidermis, eliminating the signs of aging and restoring the water balance in the skin.
Use: mix the required amount (15 - 100 g) with room temperature water (45 - 300 ml) and stir vigorously until a homogeneous paste is obtained. Immediately apply the mask to cleansed face, neck, décolleté and chest area. Leave on for 15 minutes, after which the mask can be easily removed as a film.