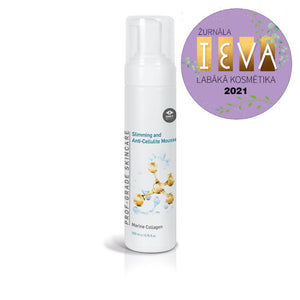 Lightweight, airy, 100% natural foam with a slimming and anti-cellulite effect
to improve body circulation. The formula of 100% natural ingredients contains the latest generation of fat-breaking ingredients, which, combined with a strong combination of plant extracts and a skin moisturizing complex, effectively reduces the external effects of cellulite.
The foam is comfortable and easy to use, the light, airy aroma is pleasantly refreshing.
The skin becomes smooth, firm and iridescent. For all skin types.
Use: daily in the morning and evening on clean skin topically on problem areas: hips, legs, upper arms. Massage until the product is completely absorbed.
Warning! There may be a pronounced warming sensation, local reddening of the skin.
Do not use in case of increased capillary fragility, reticular veins are visible.
Avoid contact with eyes, mucous membranes. Wash hands after use.