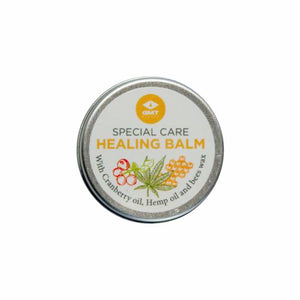 Healing balm with cranberry oil, hemp oil and beeswax 
A special and natural balm formula with cranberry and hemp oil, beeswax and herbal butter provides gentle skin care and healing. 
Natural ingredients heal, deeply moisturize, soften and protect the skin.
Usage: i

n case of increased skin sensitivity, exfoliation and skin surface defects, apply on the damaged surface until the skin is completely rejuvenated.
Main active substances
Cranberry oil, Hemp oil and beeswax.
The combination of cranberry oil and natural oils ( Triticum Vulgare seeds oil, Linum Usitatissimum seeds oil ) improves skin protection, deeply moisturizes and protects against moisture loss. The omega-3, omega-6 and omega-9 fatty acids, tocopherols, phospholipids and phytosterols make the skin much softer. The combination of minerals, antioxidants, vitamins and acids in cranberry oil works great on the skin: restores damaged epidermis, neutralizes free radicals, reduces irritation and epidermal peeling, and fills the skin with so much needed vitamins.
The compounds in the wax (carotenoids, fatty acids, minerals, esters, vitamins, carbohydrates) provide an effective bactericidal effect on the body, while soothing, softening and moisturizing the skin.