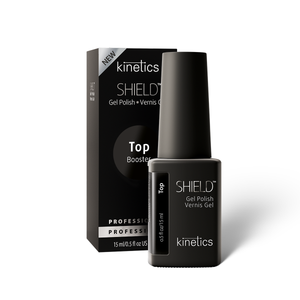 Durable – long-lasting, scratch-proof gloss;
•
Highlight – boost any color of a range;
•
Light formula – easy application.
Shield Booster Tack Free Top is the final step of the 3-step gel polish system. This product is responsible for the shine and durability of the entire system.
Kinetics Booster Tack Free Top has light consistency that is easy to work with. Durable, scratch proof gloss that will stay up to 3 weeks. Superior shine which will highlight any color from a range.