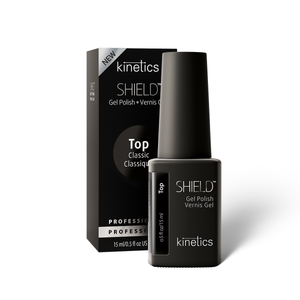 Durable – long-lasting, scratch-proof gloss;
•
True – does not change color;
•
Easy – self-leveling formula.
Shield Classic Tack Free Top is the final step of the 3-step gel polish system. This product is responsible for the shine and durability of the entire system.
Kinetics Classic Tack Free Top has medium consistency and self-leveling formula. Durable, scratch proof gloss that will stay up to 3 weeks. Due to formulation, color will stay true all wear time.