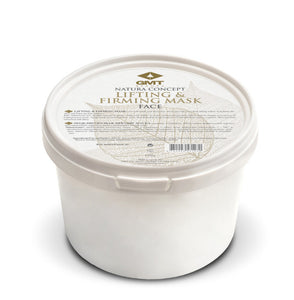 Lifing & Firming peel-off mask with Spirulina. Mask provides instant lifitn effect. It tightens the skin and firms up face contour. Spirulina facilitates the supply of tissue with oxygen and improved blood circulation. Skin regeneration and the skin's protective capabilities are getting improved. Thanks to the diverse effects of spirulina, skin is rejuvenated, vital processes are facilitated within skin cells and tiny wrinkles are evened out – brightening and even complexion is restored. The mask effectively re-mineralises and re-vitalises the skin and promotes a strong anti-oxidant defense. Visibly restores skin's younger appearance.
 USE: Mix the required amount of the mask (50-100gr) with 200-300ml of water (+20C). Mix intensively until consistent paste with a jelly-type structure. Apply mask evenly on cleansed face and neck. Keep on for 15 minutes and gently remove. Skin acquires freshness and glow.
 Main active ingredients: Spirulina, Ulva.