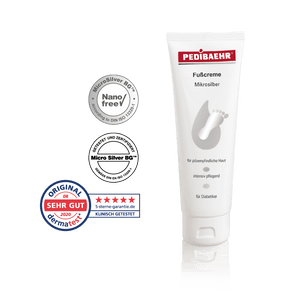 PEDIBAEHR foot cream with microsilver for the care of dry skin sensitive to fungi
 The high-quality PEDIBAEHR foot cream with the active ingredient Micro Silver BG TM gently cares for sensitive skin and protects it from attack by harmful germs. The combination of excellent ingredients such as Micro Silver BG TM , magnolia extract, marigold extract and bisabolol with their antimicrobial, soothing and regenerating properties effectively care for and protect skin that is sensitive to fungi. Evening primrose oil and shea butter from controlled organic cultivation with a high proportion of unsaturated fatty acids strengthen the skin barrier and can thus support the skin's own immune system in fighting off harmful germs. Almond oil and urea make dry skin soft and supple again. The particularly mild cream with the active ingredient Micro Silver BG TMwithout fragrances also protects the sensitive skin of diabetics optimally.
for the care of fungus-sensitive, dry foot skin

Microsilver, magnolia and calendula extract and bisabolol can naturally prevent fungal infections

suitable for diabetics and neurodermatitis sufferers*

Demonstrably increases skin moisture in neurodermatitis sufferers and diabetics*
Application:
 Apply to the feet twice a day and massage in well.
Ingredients (excerpt):
 Micro Silver BG 
TM
 , evening primrose oil, shea butter, magnolia and calendula extract, bisabolol, urea
*Skin compatibility clinically tested by contract check at dermatest® GmbH, 08/2020 (20 test persons 2 x daily application on the foot over 4 weeks)